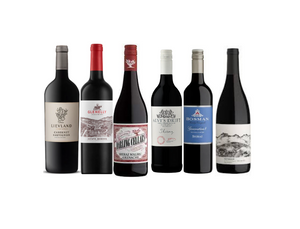 ALVIS DRIFT Signature Range Shiraz (usual price ZMW 193.30)  -  The Alvi's Drift Shiraz has a medium colour with an attractive garnet hue. The wine is elegant and nicely balanced. The aromas on the nose are a subtle blend of white pepper and red berries with a hint of vanilla and chocolate. The flavours are well integrated with nutty oak characters. The palate is balanced with surprising length and fullness. The oak, fruit and tannins are beautifully integrated, giving the wine a subtlety and elegance rarely found in New World wines. Ideal with poultry, especially roast or barbequed chicken.

BOSMAN Generation 8 Shiraz (usual price ZMW 237.64)  -  Wellington. Dark spice, leather, plum and tobacco; while retaining beautiful freshness and silky tannins. This Shiraz is one of the new approachable range of wines by Bosman Wines which are in essence a tribute to the eighth generation of the Bosman family, who has now taken over the reigns and continues to run the farm with incredible commitment to the land, the quality of wine and its dedicated people.

DARLING CELLARS The Capeman (usual price ZMW 144.66)  -  Darling. An easy drinking red blend that displays a wide range of flavours including red plums, cherries, candyfloss and fresh crushed black pepper. The entry on the palate is smooth and juicy with a lingering finish. A well balanced wine with great drinkability.

GLENELLY Grand Vin Estate Reserve Red (usual price ZMW 650.33)  -  Stellenbosch. The wine offers an elegant complex bouquet developing aromas of cassis and spicy plums, cedar and blond tobacco with notes of toast in the background. The palate has a great intensity and concentration with fantastic freshness and fine, elegant well-structured tannins, which lead to a long luscious finish.

LIEVLAND Cabernet Sauvignon (usual price ZMW 400.49)  -  A combination of high-altitude cooler Stellenbosch vineyards (80%) and dry-land warmer climate Paarl vineyards (20%) makes for a balanced wine with both complexity and abundance of fruit.

OLDENBURG RK Stone Axe (usual price ZMW 1262.28)  -  This wine is elegance, bottled. A deep, rich and vibrant purple fills the glass. The nose brings out vanilla, violets, rose petals and lavender in layers, creating a bouquet of complexity. The palate is rich with luscious fruit first, followed by white pepper and finishing with a crescendo of vanilla. Over time, aromas of mocha, white chocolate and savoury compote complete the sublime palate. Velvety tannins and an exceptionally balanced acidity perfects the backbone of this superb wine.